HELLO!
Back Of The Book
Introducing Elara, who loves all things STEM:
Science, Technology, Engineering, and Mathematics!
Being a STEM girl has its challenges–from being the
only girl in robotics club to understanding
that no one is born good at math.
But Elara is determined to show her friends how fun learning about STEM can be so they can all be STEM girls together!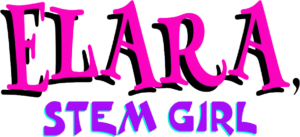 HOW DO YOU BECOME A STEM GIRL?
The Back Story
When Leela helped her 8 year old sister who was encountering the same issues and stereotypes that she had faced as a STEM Girl, she realized that many young girls would likely face those challenges alone, so she wrote a book Elara, STEM Girl.
The Need
Young girls are naturally interested in STEM, but their interest usually fades as they grow older. Elara, gives readers the tools to continue their love of STEM by showing readers how to manage: being the minority, math anxiety, stereotypes, and the fear of failure.
This Book Is Different
Recently, there been more books published for young girls on the topic of Women in STEM but most of them focus on biographies.  Elara, STEM Girl is different. because it gives the reader ways to overcome the obstacles that most girls face when they have an interest in STEM.
Connect with Elara
Join Elara's Newsletter
Hey you, sign up it only takes a second to be the first to find out about our latest news and promotions…